Dorunto Kunming Branch Was Invited to Carry out Trademark Strategy Training in the District Business
  The theme of this year's national IPR Publicity Week is "constructing the powerful country of intellectual property and supporting the innovation-driven development". On April 24, to support the enterprise innovation and welcome the 15th 4•26 World Intellectual Property Day, Wuhua District Business Bureau of Kunming city invited Dorunto Kunming Branch which won the municipal trademark strategy implementation advanced agency three years in a row to carry out the trademark strategy and intellectual property protection publicity and training for the local enterprises and trademark business staff of other branches.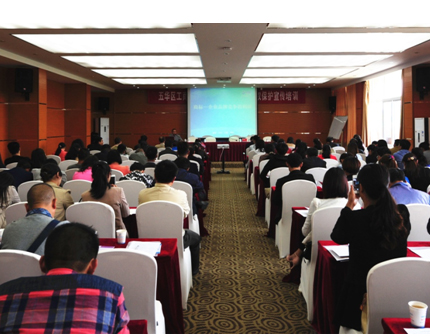 Hundreds of heads of many large and medium-sized enterprises and related staff of the Business Bureau attended the training. The lecturer Su Xiaohong, from Dorunto Kunming branch, provided comprehensive and systematic protection measures and suggestions for the enterprise trademark strategy from the trademark creation, protection, application, promotion, management and other aspects, explained in detail the knowledge of the level three trademark, especially the well-known trademark, and gave answers to the enterprises on site.
  The training enhances the intellectual property protection consciousness of the enterprises present, and advises the enterprises on building and improving the brand practically, thus getting high recognition and praise from the Business Bureau and the enterprises. After the training, at the request of the enterprises, Dorunto Kunming branch provided on-site professional guidance for many large-scale enterprises. Enterprise managers expressed their willingness to cooperate with intellectual property companies such as Dorunto with solid professional skills, skilled professional knowledge, and good social image, to obtain more professional trademark strategic guidance and further practice training.
  Dorunto Kunming branch has always been adhering to the "integrity, attention, win-win, and honor" business philosophy to provide one-stop intellectual property service for customers in Yunnan district. Through more than 5 years of tireless efforts, Dorunto Kunming branch win customers' trust and receives wide praise with its leading in trademark applications amount, profession and experience, and zero complaint rates, thus becoming a local well-known intellectual property service agency. In future, Dorunto Kunming branch will always pay attention to the intellectual property industry development trend and the actual needs of enterprises, improve service quality continuously, help more and more enterprises to achieve the intellectual property protection and brand promotion, and let China's enterprises have their own brands!