Dorunto Trademark Applications Amount Ranked Top Three Again
  Recently, the domestic well-known trademark data monitoring agency released the 2014 trademark applications amount ranking, and Beijing Dorunto Intellectual Property Service CO., LTD stood out again and ranked top three in more than 500 participating enterprises with the amount of 13856 applications.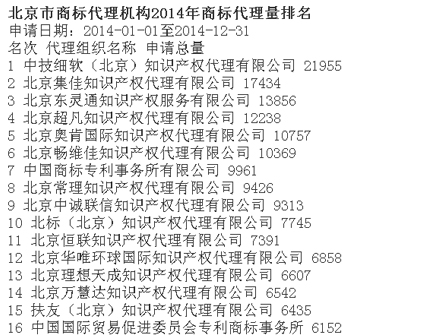 The front ranking has a close relationship with Dorunto's powerful strength and years of efforts. Dorunto is the one-stop service provider of Chinese large-scale intellectual property. Through the integration of domestic and foreign resources, Dorunto provides Chinese enterprises with one-stop service of the intellectual property industry chain including registration, management, rights protection, and financing, and helps Chinese enterprises to achieve the personalized intellectual property strategy. With the enterprise's emphasis on intellectual property, the demand level of intellectual property services of large enterprises is also constantly improving. As a national intellectual property service company, Dorunto adopts the mode of the headquarter's professional support and the branches' local custom service to offer the one-to-one advisory service. This wins the recognition of governments and enterprises and makes Dorunto become one of the rapidly developing intellectual property service companies.
  Dorunto is not the biggest, but we have been working hard!
  Dorunto refuses low price competition and only do quality service!
  Dorunto has always sticked to principle and disciplined itself, been guided by the enterprise spirit of "integrity, attention, win-win, and honor", adhered to the enterprise mission of "making China's enterprises have their own brands", constantly improved the employees ' quality, strengthened talent team construction, attached importance to the development of the intellectual property integration, changed the simple trademark registration service into the high-quality brand-building service, and been devoted to providing the best service for every customer!